Message from the President & CEO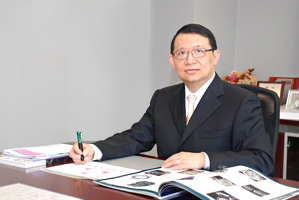 At the Gordon C Holdings Corp, we have always upheld the business philosophy of "moving with the times through active innovation and continuous changes" in the ever-changing and increasingly competitive business world. We constantly innovate by keeping our finger on the market pulse and focusing on product research and development; we also keep abreast of the development of manufacturing technologies in the industry in creating sophisticated, advanced, automated production chains. Coupled with detailed planning, strict management, systematic operations and comprehensive data analyses, we provide our customers with high-quality and high-value products that are in line with market demand.
Putting people first and being merit-based is the key to success for enterprises. We value employees of all levels, whom we regard as our valuable assets. The experience of senior staff members, coupled with the innovation and curiosity of the younger generation, can broaden the Group's horizons and create more efficient modes of production and management. We attach great importance to the growth of our employees; we provide them with ample room for development, through internal and external vocational training, and by creating a united, well-coordinated, mutually agreeable, and inclusive team with an enterprising spirit. By doing so, we can advance and perpetuate our business development and continue the legacy.
Since 1972, the Group has been dedicated to developing its core business – the design, production, marketing and sales of watches. Over four decades, we have brought together professional technologies, multi-faceted industry knowledge, and a massive market network; we have progressed from original equipment manufacturing (OEM) towards original design manufacturing (ODM) while producing innovative, fashionable and high-quality products. Gradually, the Group has seen steady development in the Greater China Region as well as the global market. In recent years, the Group has also established an original brand manufacturing (OBM) business line and made astonishing progress.
We believe in looking further ahead and in embodying the courage to try new things, for that is the way to learn from failure and pave the way to success. We have a clear understanding of the prospects of the metals industry and the business opportunities it presents - that is why we have extended the watchmaking and watchcase manufacturing technologies and experience that we have accumulated over several decades for application across industries in high-precision computer numerical control metal processing, so as to provide our customers with the latest innovative products and value-added services and put into practice our endless pursuit for excellence.
Having experienced 40 years of ebbs and flows, I look back at the beginning when I started the company from scratch and witnessed its transformation into the diverse group that it is today; the years of hard work has become a driving force. Moving forward, I will continue my efforts to lead the group through different challenges, create quality innovative products, and bring it to new heights.
Choosing to pursue a lifelong career in the manufacturing industry, we must uphold the belief that, "To win, we must outperform others and progress faster than others!" This has also been a commitment I made to myself.
President & CEO, Gordon C Holdings Corp
Mr. Gordon Chow